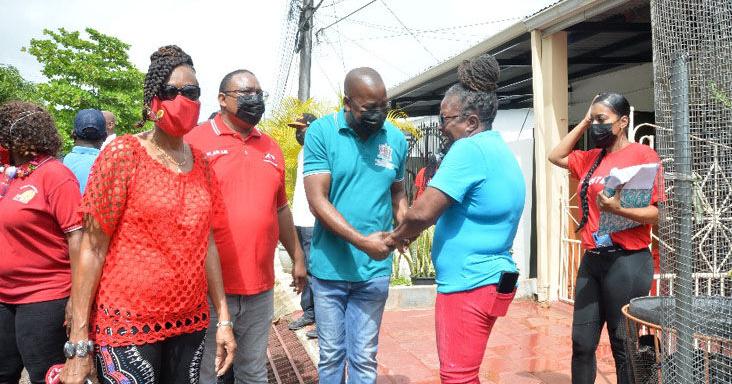 Foster after court defeat: It's not over yet | Local News
Government Minister Foster Cummings yesterday admitted the court had overruled his injunction to gag opposition Senator Jayanti Lutchmedial to stop speaking or publishing the contents of a leaked Special Branch report on allegations of corruption on his part. However, he hinted that the case might not be over yet.
Speaking to the Express on a walk in La Horquetta yesterday, the Minister for Youth Development and National Service said: 'The court has had its say but we are looking at it again and will see how things are going from now on and take the necessary action. "
Declining to comment further, he said his focus at this time is on walkabouts and meeting with members of his constituency.
Last Friday, Judge Nadia Kangaloo denied Cummings' request for an injunction, saying that, based on the evidence so far, he had failed to convince the court that at this stage the statements made by Lutchmedial and a subsequent publication on its Facebook page deserved restraint.
"The evidence presented to the court at this stage suggests that Miss Lutchmedial took a reasonable, methodical, reasoned and careful approach and exercised due diligence in confirming the authenticity of the documents," the judge said.
In addition to denying the injunction request, Judge Kangaloo ordered Cummings to bear Lutchmedial's legal costs.
The amount to be paid will be assessed by the court at a later date if the parties fail to reach an agreement.
Cummings had brought the case claiming Lutchmedia defamed her name when she on May 5 at a UNC TT Speaks meeting revealed the contents of the report she said she had received in her mailbox. letters from a whistleblower.
She later posted a statement on her Facebook account regarding the allegations, calling for the allegations to be fully investigated by police.
Cummings maintained that the report was "private and confidential" and should not have been released to the public.
In addition to Lutchmedial, the newspaper Express, its editor Omatie Lyder and journalist Anna Ramdass are also named as defendants in the claim on the merits since the newspaper had published the senator's statements.