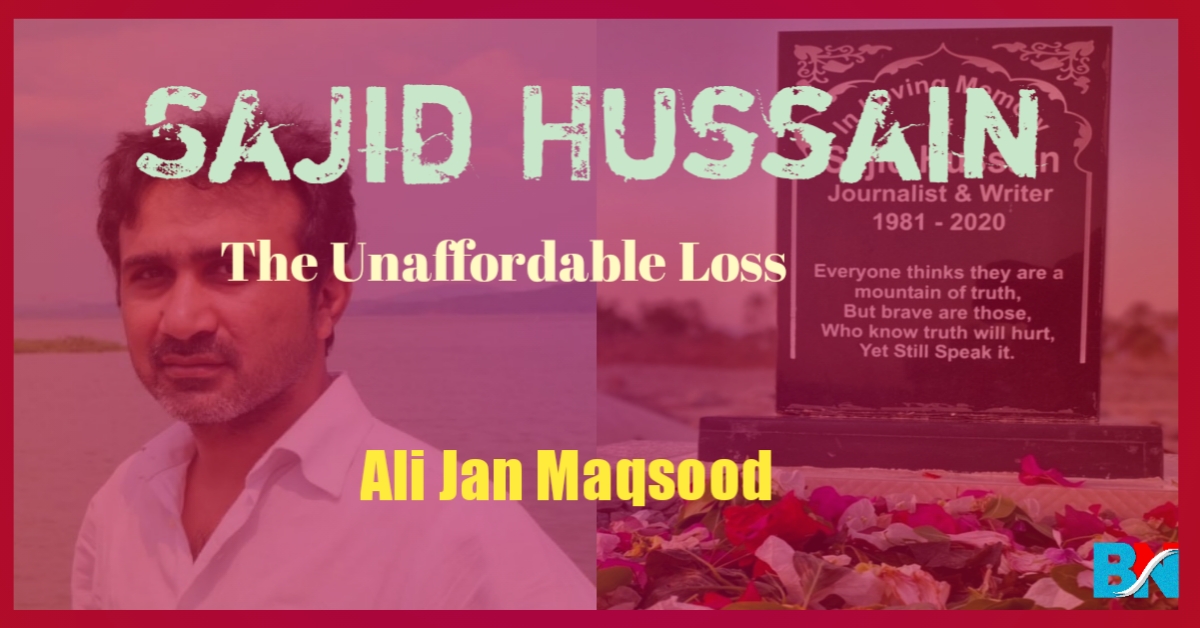 Sajid Hussain: The Unaffordable Loss
Earlier in 2020, frankly, news spread on social media that Sajid Hussain had been abducted in Uppsala, Sweden. "Sajid Hussain," I repeated in my head, but couldn't put into my story who Sajid Hussain really was.
Later, Twitter and Facebook were loaded with tweets and feeds of Sajid Hussain, his identity, works, efforts, voice, goals, dedication, tireless movements, its Balochistan, its Balochism, its predictability, its ideas, its influence, its cause, its immigration, its village, etc. And then I was referred to Sajid Hussain, of whom I knew nothing before. As a rest, I retweeted with the quote #RecoverSajidHussain.
Unfortunate followed us again when we received his martyr's body near a river in the same town. Everything seemed broken. Displayed images were blacked out. The hashtags were going up. Sajid Hussain has become the talk of the world. I was one of Sajid Hussain's weightlifters in the social media world. #RestInPowerSajidHussain
One day I could see the photo of Sajid with a laptop in front of him and working. I imagined: what did Sajid want? Recovery of Baloch missing persons: promotion of Baloch and Baloch language: unity of the nation for the same cause: working on Baloch youth by editing their badly written documents: an educated Baloch society: or what else? A self-determined region?
Then I recycled my imagination. Who is following Sajid Hussain now or trying to do something like Sajid? Almost never in Baloch society, perhaps. Maybe his goals are washed away, and I don't know. Maybe his tasks are taken on by his comrades and I shouldn't necessarily know that now: or maybe, as Banuk Karima asserts, we are opportunists: maybe things are different, maybe not.
But where does Sajid Hussain stand today in Baloch society? A dead man ? A martyr? A Baloch who died with his goal taken to heaven? Or is Sajid Hussain the Baloch himself of the present? If Sajid Hussain is the Baloch himself of the present, why are his characteristics missing in the Baloch of today? Sajid, you left so early, but not the questions about you.
One of his comrades shared a bunch of links from his articles and said he was 'killed' for talking about the realities on the ground and writing about existing facts – from Baloch, from Balochi, from Balochistan , injustice and inequality and discrimination. Does this mean that writing and talking about existing realities leads to death in our society? Are writers and speakers of truth generally killed here? Or did this rule only apply to Sajid Hussain? Will other Baloch writers and speakers face similar consequences if they turn to the realities on the ground? Above all, one thing is damn clear, this fear has stopped many writers and speakers from describing the truth in our society. Should Sajid be afraid of it too? If so, who would not remain silent?
If Sajid Hussain was alive, what would he do next? How would he promote the Balochi and Balochi language? Would I know Sajid Hussain if he was alive? Is his death an alarm, for Baloch like me, to wake up? But, how would we suppose to wake up? Would Sajid Hussain tell us how to wake up if he was here? Isn't he here? Can't He hear us now, right now?
I read Sajid Hussain in his writings but, I regret, very recently. I asked him a number of questions about writing, about his goals, about his works, about so many other things besides journalism and literature. I don't know if he would have had enough time to answer me, but I would have asked. He had goals and fulfilled them with his eyes open – from dawn to dusk. He envisioned a life worth living for his people. He wasn't selfish. It was a gem.
On this day of November 13, Sajid Hussain, I am sorry, because I am also an opportunist, as Banuk explained when remembering you today. But Sajid, shouldn't I be? If I happened to be a silent wrestler, I wish I could be like you. But as Shah Mir Baloch, a fellow senior journalist, says, you were Jean-Paul Sartre de Baloch, and I'm sorry Sajid, I can't be at that level. I can't be like you.
Your friend, Taj Baloch, says you were a meaning to their life. "We don't know in whose absence our life has become empty, but Sajid, after you are gone, life has no more taste."
Sajid, you left Baluchistan very early on as an orphan with a brave son. The mountains will always be proud of you. This nation has given birth to too many brave sons like you. We hope that your efforts and tasks will not remain fruitless. Wherever you are, God bless you, Sajid.