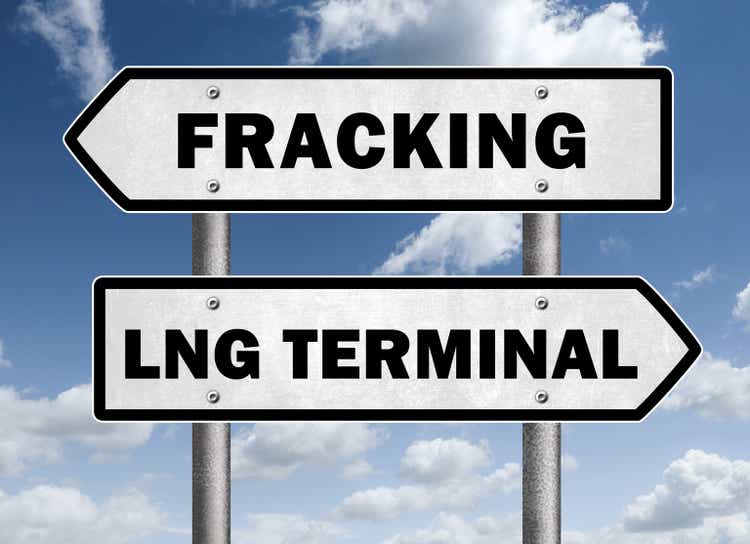 Seapeak preferred shares are still attractive with yields of 8.4-8.9% (NYSE:SEAL.PA)
Introduction
I was a shareholder of the common shares of Teekay LNG as well as the two series of preferred shares. When Teekay LNG was taken over by Stonepeak, a private equity group, I wasn't sure if I should own on my preferred shares, currently traded with (NYSE: SEAL.PB) and (NYSE:SEAL.PA) as a stock symbol.
I'm usually not too keen on seeing a private equity group take over an entity, because in some cases (or read: most) where they don't call preferred stock, the balance sheet is sometimes stretched a little too much in an 'optimization push'. A good example would be the recent acquisition of PS Business Parks (PSB) by Blackstone (BX) where Blackstone did not call the preferred shares but also announced that it would add leverage to PSB's balance sheet thus making the shares less secure privileges. . Add to this the fact that some LNG carriers transported LNG from Russia to other countries (China), which added an additional factor of uncertainty.

A solid performance in Q2 and H1
At the end of June, Seapeak owned (shared) 47 LNG carriers and a 30% stake in an LNG regasification terminal in Bahrain. In addition, Seapeak also holds stakes in 26 LPG and gas carriers, in a joint venture with a European company.
For the second quarter of this year, Seapeak LLC reported total travel revenue of just over $150 million, representing a decrease from the first quarter of the year and a slight increase from the second. quarter of last year. One of the main issues is that although revenues have virtually stagnated, operating costs are rising as more expensive fuel has driven the vessel's operating expenses up about 50% from a year ago. year.
Despite this, revenue from vessel operations was nearly $65 million and pre-tax income nearly doubled thanks to much higher equity income.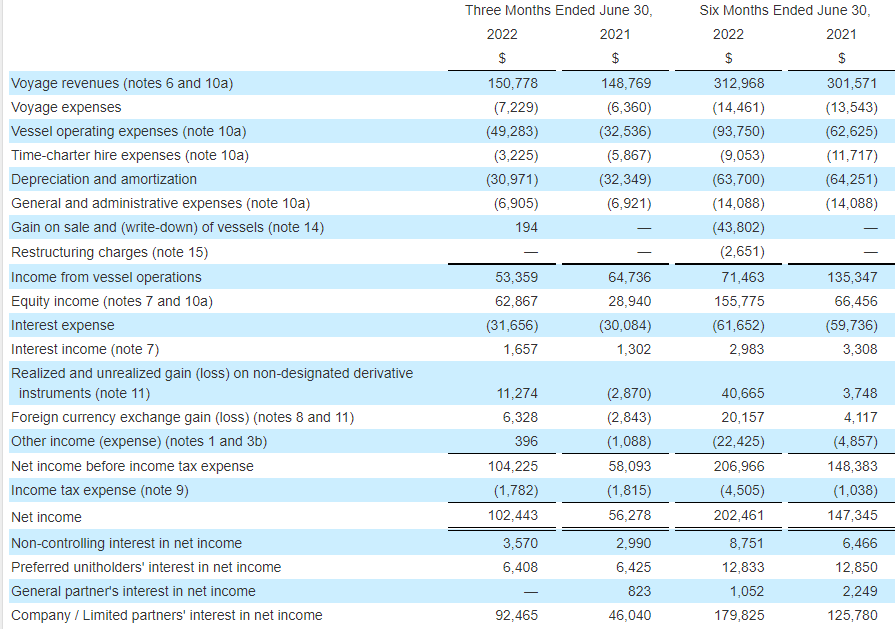 Net income was $102.4 million and after taking into account preferred dividends ($64 million) and non-controlling interests, net income attributable to Seapeak LLC was approximately 92, $5 million. A very good result which shows that the preferred dividends are very well covered but we obviously have to check the sustainability of this "equity income", because it represents a very large part of the pre-tax income. Looking at the segment information in the footnotes to the financial statements, the majority of equity revenue was generated in the LNG division and includes the regasification facility in Bahrain. Unfortunately, Seapeak is not required to provide a more detailed breakdown as part of its semi-annual financial statements.

The cash flow statement also clearly shows that the vast majority of equity income was accounting profit and not cash inflow. As you can see below, net operating cash flow was just over $79 million in the first half of the year, and the $155.8 million in equity income in first half were reduced by $133.3 million to reflect distributions received (of the $155.8 million in capital gain, only $22.4 million was distributed in cash to Seapeak).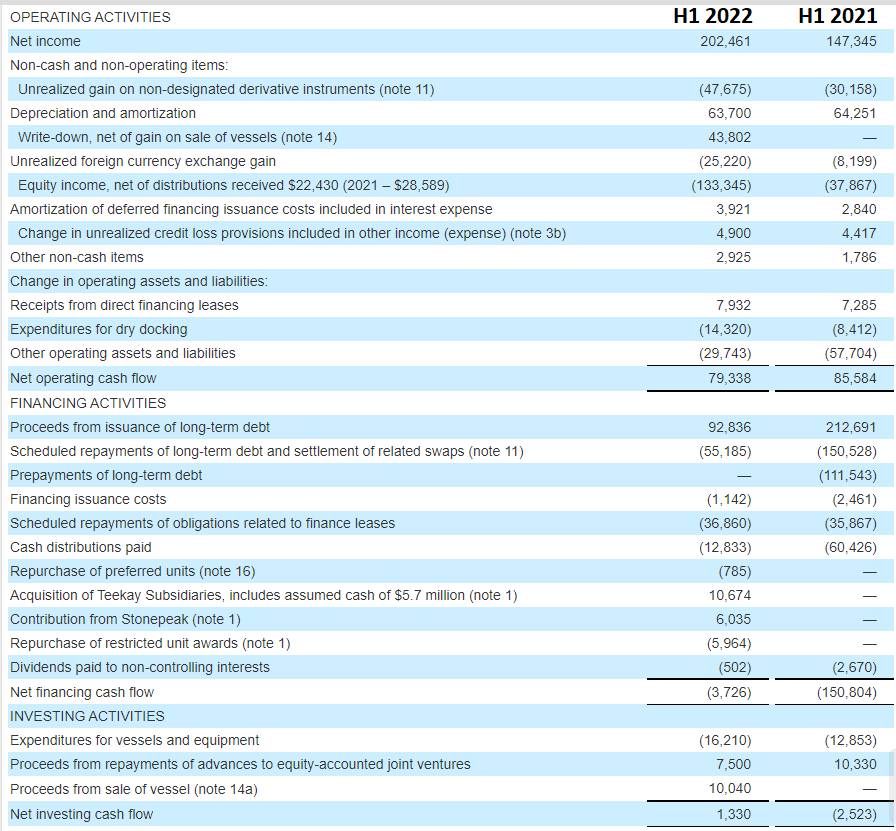 Excluding changes in working capital position, cash flow from operations was close to $110M, but we still need to deduct the $12.8M in preferred dividend payments to get $97M in cash flow. net cash. Keep in mind that this still excludes capital expenditures ($16.2 million) and lease payments of almost $37 million, but it includes about $14.3 million in start-up payments. dry dock.
The private equity partner plays the game
As mentioned in the introduction, my main concern was that the private equity partner would take cash out of the Seapeak subsidiary by declaring dividends on the common shares. That would be perfectly legal, and it's how most private equity owners try to run their businesses: bloating the balance sheet with debt and just siphoning off the money through dividends.
And even though a preferred dividend has priority over an ordinary dividend, nothing really prevents an owner from declaring dividends on ordinary shares. A good example would be for example Presidio Property Trust (SQFT) which I talked about in a recent article. The REIT paid out distributions it could not afford on its common stock, taking cash off the balance sheet and making that balance sheet less secure for preferred shareholders.
In terms of financing cash flow, the only distributions that were paid in the first half were preferred dividends. Additionally, Stonepeak has actually invested just over $6 million in Seapeak.

I own both preferred shares A and B. Shares A offer a dividend yield of 9% ($2.25 per preferred share per year, payable in quarterly installments) and can be called at any time.
Meanwhile, B shares offer an attractive floating dividend from October 2027. These preferred shares currently pay a preferred dividend of 8.5% ($2.125 per year, paid in four quarterly installments), but in about five years , this is converted into a three-month LIBOR spread plus an increase of 624.1 basis points. With the current 3-month SOFR rate around 3.19%, this would indicate a jump to just over 9.4% based on $25 face value if the preferred shares are not called.
Investment thesis
When Teekay LNG Partners announced it was selling to a private equity firm, I wasn't too thrilled. But now, more than six months after the transaction was completed, I am very happy to see that the private equity partner is doing the right thing and that more cash is being kept within Seapeak compared to then where Teekay LNG was still a publicly traded entity, paying attractive distributions. .
I will closely monitor the quarterly financial statements released by Seapeak, but so far I see no reason to sell my Seapeak preferred shares. In fact, the total amount of equity on the balance sheet has increased by almost $200 million, which means that there is now almost $1.8 billion of equity junior to preferred shares.